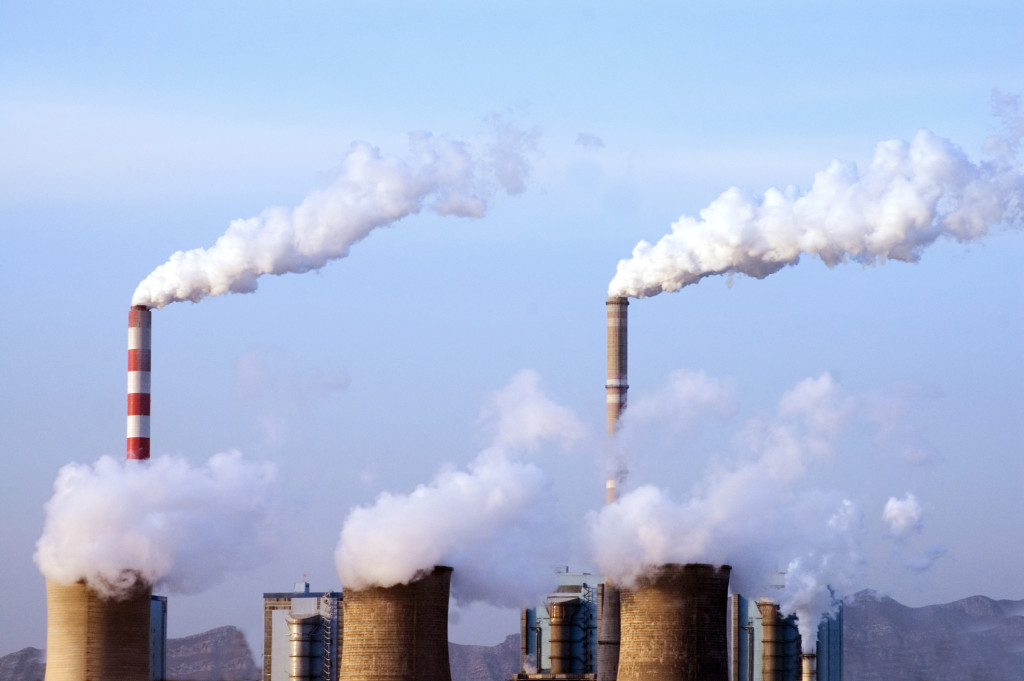 Fossil fuels – petroleum, coal, and natural gas – were instrumental in mankind's development.  The Industrial Revolution, which took us from disconnected farms to an integrated civilization, depended on them.
In the opinion of this writer, however, they are now becoming a liability.  Our continued dependence on them leads to environmental damage which is approaching the point of no return.  It has distorted our domestic policy, and our foreign policy.  Those whose fortunes depend on the continued prominence of fossil fuels appear willing to use all means necessary to maintain the status quo.
Climate Change is Real
Everyone has heard the claim that 97% of the world's climate scientists believe that climate change is occurring, and human activity is a primary cause.  The Institute of Physics (IOP) has carefully examined thousands of peer-reviewed papers on the subject.  They found, "Surveys of climate scientists have found strong agreement (97–98%) regarding AGW [anthropogenic global warming] amongst publishing climate experts." [1]
The same article noted that the consensus has steadily increased and continues to do so.  So if the people who study climate for a living are this certain that it's real, why are others so insistent that it is not?  We will get to that.
Global Temperatures are on a Steady Increase.
Many climate-change deniers point to brief periods in which temperatures fluctuate downward.  The following image from NASA shows the overall trend, going back to the beginning of the industrial revolution.[2]  There is no denying that mean global temperatures are steadily increasing.  While the numbers seem small (1.40 F. over more than a century), even such small increases can lead to dangerous shifts in the Earth's climate and weather.[3]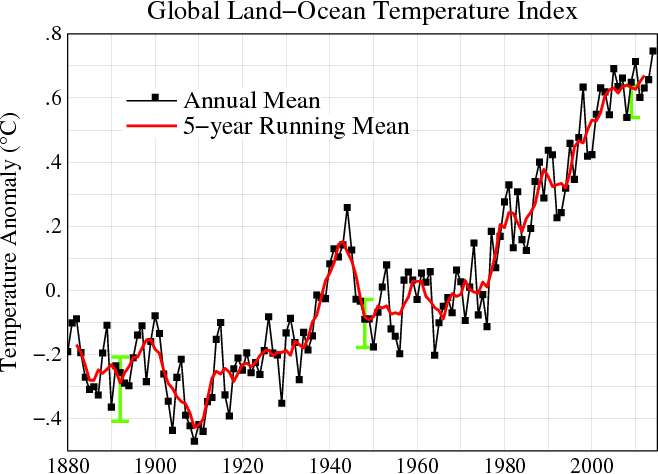 How fossil-fuel consumption affects climate.
Greenhouse gases – carbon dioxide, methane, nitrous oxide, and fluorinated gases – insulate the Earth and maintain its warmth.  The planet would otherwise not be habitable by humans.  However, we are reaching the point where we have too much of a good thing.
The oxidation of fossil fuels releases greenhouse gases into the atmosphere.  This includes manufacturing, transportation, and the production of electricity.  In 2013, the U.S. alone released 6.6 billion metric tons of carbon dioxide equivalent.[4]
Many alternative theories have been presented for the cause of climate change.  Such things as deviations in the solar orbit, deforestation, ozone, and aerosol usage have been suggested.
In June of 2015, Eric Roston and Blacki Migliozzi made a cogent analysis of data assembled by the Goddard Institute for Space Studies.  [5]  They reviewed the relationships of various factors with the observed temperature change.  One factor stood out: greenhouse gases.

Combining all human-related factors, the correlation with the trend-line of observed temperature change is remarkable.

So where is the contrary opinion coming from?
There have been detractors who dispute man's role in climate change.  What about them?
Let's take a good, hard look at the 'research.'  One excellent example is Wei-Hock Soon, of the Harvard-Smithsonian Center for Astrophysics.  He claims that variations in the sun's energy can largely explain recent global warming.
In February of 2015, the New York Times revealed that Dr. Soon had accepted funding of over $1.2 million from the fossil-fuel industry, which he failed to mention in his published works.[6]
More recently, the Union of Concerned Scientists published a detailed list of the attempts at disinformation fostered by members of the fossil-fuel industry.  They concluded that, "for nearly three decades, as the scientific evidence concerning climate change became overwhelmingly clear, these companies and their allies developed or participated in campaigns to deliberately sow confusion and block action to address global warming."[7]
The picture is clear.  The scientists who study climate as their profession have a consensus:  Climate change is real, and man's activities in burning fossil fuels are a significant cause.  The contrary opinions come from people who have a direct or indirect financial interest in the fossil-fuel industry.
The United States' Domestic Policies have been distorted by the influence of the fossil-fuel industry.
The most obvious distortion is the taxpayer support of an industry which is highly profitable on its own.  More importantly, tax subsidies for oil and gas production encourage the expanded use of fuels with higher pollutant content.
In 2012, the International Energy Agency stated that "No more than one-third of proven reserves of fossil fuels can be consumed prior to 2050" to avoid potentially catastrophic climate change.[8]  Yet federal and state subsidies for oil gas and coal production and exploration increased to $21.6 billion in 2013.[9]
According to a national survey, the majority of Americans would prefer that government subsidies go more toward renewable, clean energy rather than fossil fuels (61% clean energy vs. 33% traditional sources).  Of those, 51% 'strongly' preferred investment in clean energy.[10]
How the government be persuaded to spend huge sums of money against the both the public's best interest and the majority opinion?  Follow the money.
In 2009 and 2010, the fossil-fuel industry spent $347,282,110 on campaign contributions and lobbying the 111th Congress.  The 111th Congress gave the fossil-fuel industry $20,489,340,000 in subsidies.[11]
The result is not limited to subsidies.  Congressmen and other elected officials who are beholden to the fossil-fuel lobby have been reluctant to invest in clean energy.  They have consistently worked to limit the authority and effectiveness of the EPA.
Senators McConnell and Cruz, for example, have argued that the evidence of climate change is not persuasive.  Senator Cruz received $1 million in campaign contributions related to the fossil-fuel industry; Senator McConnell received $3.7 million.
The United States' foreign policy has been distorted by dependence on fossil fuels.
US relations with Iran have been, to say the least, strained.  The agreement recently negotiated regarding nuclear materials is hotly debated.
It could be instructive to take a look back.  Is it possible that the US did something for which Iranians rightfully harbor a grudge?  And what, if anything, might it have had to do with oil?
In 1951, Mohammad Mosaddegh was democratically elected as Iran's prime minister.  In May of that year, he received approval from Parliament to nationalize the oil industry.  The British company, Anglo-Iranian Oil Company (AIOC), had enjoyed exclusive rights to Iranian oil.
Great Britain blockaded Iran economically and brought the matter before the International Court at the Hague, as well as the United Nations Security Council.  In 1952, both the Hague and the UN Security Council rejected Britain's complaint.[12]
In August of 1953, a coup d'etat overthrew Mossaddegh's government and consolidated the authority of Shah Mohammad Reza Pahlavi.  Britain's MI6  and the US' CIA were instrumental in the coup.  While this was widely understood, the CIA did not release documents acknowledging the CIA's role until 2013.[13]
There's something worth contemplating.  An agency of the government of the United States of America facilitated the violent overthrow of a democratically-elected leader.  The primary motivator?  Oil.
Most Americans are familiar with the events which followed.  Pahlavi was pro-Western, and he was viewed as harshly authoritarian.  When he was inevitably removed from power in 1979, hatred for the people who had put him in power and helped him stay there should not have been a surprise.
US policy toward Saudi Arabia has also been distorted.  While US statesmen have spoken out against most regimes that deny the rights of their citizens, they have been silent about Saudi Arabia.
When talking about Osama bin Laden, few people mention that he was born and raised in Saudi Arabia.  Nor is it often mentioned that 15 of the 19 9/11 hijackers were Saudis.
This is not to suggest that the Saudi government was complicit.  What it does suggest is that the US support for the Saudi government foments hatred toward the US.
Amnesty International has stated, "Protesters have been held without charge and incommunicado for days or weeks at a time, and some are reported to have been tortured and otherwise ill-treated. Nearly 20 people connected with protests in the Eastern Province have been killed since 2011 and hundreds have been imprisoned."[14]
The Saudi regime has suppressed speech with regard to religion, making 'blasphemy' a capital offense.[15]  Recently, Saudi Arabia's director for external relations at the Ministry of Islamic Affairs proposed making blasphemy a crime world-wide.[16]
While all this goes on, the silence from the US government is deafening.  The most that seems to happen is that in 2014, Saudi Arabia was classified as a "Country of Particular Concern under the US International Religious Freedom Act for having engaged in or tolerated particularly severe violations of religious freedom."[17]
The actions in Iraq were intimately related to oil.
Everyone is familiar with the invasion of Iraq.  Years later, declassified documents showed what most people had suspected all along.  The 'intelligence' on WMDs in Iraq was far from compelling.[18]
We went to war based on a lie.  One of the underlying reasons for invading Iraq?  Oil.
General John Abizaid, former head of U.S. Central Command and Military Operations in Iraq, said in 2007, "Of course it's about oil; we can't really deny that."[19]
Alternative sources of energy are feasible.
There are many examples of the advance of renewable energy sources.  A project undertaken at Standford in 2014 has demonstrated that a conversion to 100% renewable energy is feasible by 2050.[20]
Conclusion.
There was a time when fossil fuels were a necessary part of our development.  The Industrial Revolution could not have occurred without them.
Now, however, our dependence on them is a liability.  The financial strength of the fossil-fuel industry allows it to continue manipulating our elected officials.  They spend money on campaigns and lobbying.  They finance self-serving 'research' to deny the conclusions reached by independent scientists.  And they somehow manage to continue receiving government funds, while all other government spending is being closely scrutinized.
Fossil fuels have had their time.  Now it's time for something else.
[1] http://iopscience.iop.org/1748-9326/8/2/024024/article
[2] http://data.giss.nasa.gov/gistemp/graphs_v3/Fig.A2.gif
[3] http://www.epa.gov/climatechange/basics/
[4] http://www.epa.gov/climatechange/ghgemissions/usinventoryreport.html
[5] http://www.bloomberg.com/graphics/2015-whats-warming-the-world/
[6] http://www.nytimes.com/2015/02/22/us/ties-to-corporate-cash-for-climate-change-researcher-Wei-Hock-Soon.html?_r=0
[7] http://www.ucsusa.org/sites/default/files/attach/2015/07/The-Climate-Deception-Dossiers.pdf
[8] http://www.iea.org/publications/freepublications/publication/English.pdf
[9] http://priceofoil.org/content/uploads/2014/07/OCI_US_FF_Subsidies_Final_Screen.pdf
[10] http://content.sierraclub.org/press-releases/2014/02/new-national-survey-7-10-voters-support-strong-carbon-pollution-limits-power
[11] http://priceofoil.org/2012/01/26/one-dollar-in-fifty-nine-out/
[12] http://www.mohammadmossadegh.com/biography/
[13] http://nsarchive.gwu.edu/NSAEBB/NSAEBB435/#_ftn1
[14] http://www.amnestyusa.org/our-work/countries/middle-east-and-north-africa/saudi-arabia
[15] http://www.wsj.com/articles/blasphemy-divide-insults-to-religion-remain-a-capital-crime-in-muslim-lands-1420673864
[16] http://www.clarionproject.org/analysis/saudi-arabia-calls-world-ban-criticism-religion
[17] https://www.hrw.org/world-report/2015/country-chapters/saudi-arabia
[18] http://yournewswire.com/declassified-cia-document-reveals-iraq-war-had-zero-justification/
[19] http://www.cnn.com/2013/03/19/opinion/iraq-war-oil-juhasz/
[20] http://singularityhub.com/2014/03/08/100-renewable-energy-is-feasible-and-affordable-stanford-proposal-says/